ORDER YOUR COPY TODAY– WHILE STOCKS LAST!
Steam World has Published its first book- TOTON ENGINEMAN- the railway autobiography of the late John Henry Woolley, who spent his 40 year career at Toton Motive Power Depot.
John's first day as an engine cleaner was October 25th 1954, when Toton's marshalling yards were each handlin one million wagons a year- principally coal. At that time, 20 of the Beyer Garratt 2-6-6-2s were still at work hauling heavy coal trains to Cricklewood. He describes firing these massive locomotives, introduces in 1927 to do the work of two older engines- which means he had to do the work of two firemen.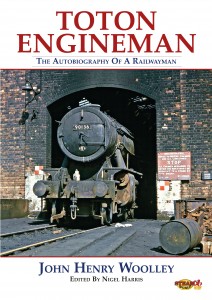 John describes working north in to Nottinghamshire coalfield on Stanier'8Fs' and 'WD'2-8-0S' also south to the Corby Steelworks on BR'9Fs' and their disliked Franco-Crosti Friargate, over the landmark Harrington Viaduct south of Manton Junction and working 'LNWR Super D'0-8-0s via the Midland line to Peterborough.
The full spectrum of firing from Toton is covered from the 19th century MR Johnson '2F' 0-6-0s on local shunts, through to runaways trains, the inevitable (for those days) fatalities of some workmates and recalling the characters he worked with. John went on to a successful diesel era career retiring after 4 decades in October 1994.
This top-quality 144- page A4 hardback is printed on gloss art paper and features more than 200 black and white photographs from Brian Morrison, Rail Archive Stephenson, Gavin Morrison, the Armstrong Trust Archive, Initial Photographics and Colour Rail.
Appendices cover a history of Toton and Long Eaton railways, track plans of the marshalling yards/engine shed, full steam allocation listing from 1954 to 1966, personal testimonials from John's former colleagues, top-quality large photographs and a full biography.
For UK residents, Toton Engineman costs £19.95 (plus £1.95 towards postage and packing) For overseas residents, there is a £10 postage and packing charge. To order, telephone 01733 555123 and order by card. You can also order online by clicking "Buy Now" below
UK residents
Overseas