ORDER YOUR COPY TODAY– WHILE STOCKS LAST!
Our first book, Toton Engineman, completely sold out and we're delighted to have published our second. This brand new book tells the very important story of the RAILWAY INSPECTORATE, which has its roots in 1840, but which was properly empowered to become the organisation we know today, after a vigorous campaign by George Stephenson. The organisation became HER MAJESTY'S RAILWAY INSPECTORATE on its 150th anniversary in 1990 and this book is published in honour of HMRI's 180th anniversary in 2020.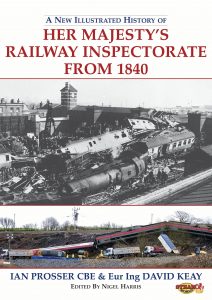 Authored by current CHIEF INSPECTOR OF RAILWAYS IAN PROSSER CBE and his retired Deputy, Eur Ing DAVID KEAY, this 184pp large format quality hardback is printed on luxurious heavyweight art paper and is illustrated using more than 280 photographs, trackplans, tables and graphics. Illustrations are monochrome up to page 112 and colour from page 113. The 11-chapter book has been edited by Steam World Consultant Editor Nigel Harris.
Prosser & Keay tell HMRI's important and exciting story – warts and all – from its establishment just ten years after the opening of the Liverpool & Manchester Railway, in 1830, to the end of the second decade of the 21 st century. Accidents large and small, infamous and less well known, chronicle and explain the steady progression in railway safety, pressed relentlessly for 180 years by the RI/HMRI. For 166 years from 1840, RI/HMRI Inspectors were drawn from the ranks of the Royal Engineers and a foreword has been written by Major John Poyntz, who retired in 2006 as the last RE Railway Inspector.
This superb book tells the story from the RI's earliest days, through to the well-known rail tragedies of the privatisation era, including Ladbroke Grove, Hatfield, Potters Bar and Grayrigg, which are profusely illustrated. HMRI's own troubled times in the 1990s and early 2000s, and the story of its controversial transfer from the Health & Safety Executive to the Office of Rail Regulation, in 2006, are covered candidly by the authors.
Today, Britain's railway is the safest in Europe – this book tells the story of the RI/HMRI's contribution to this noteworthy achievement.
For UK residents, Her Majesty's Railway Inspectorate From 1840 costs £35.00 (free p&p)
For overseas residents, it's £45.00 (inc p&p). To order, click on 'Buy Now' below. Alternatively buy both Steam Photographer – My Favourite Pictures from the BR Era by Gavin Morrison and Her Majesty's Railway Inspectorate from 1840 together for £60 (UK delivery) or £95 to Europe and the Rest of the World.
UK residents – Her Majesty's Railway Inspectorate from 1840 only
UK residents – Steam World book bundle £60
Overseas residents – Steam World book bundle £95