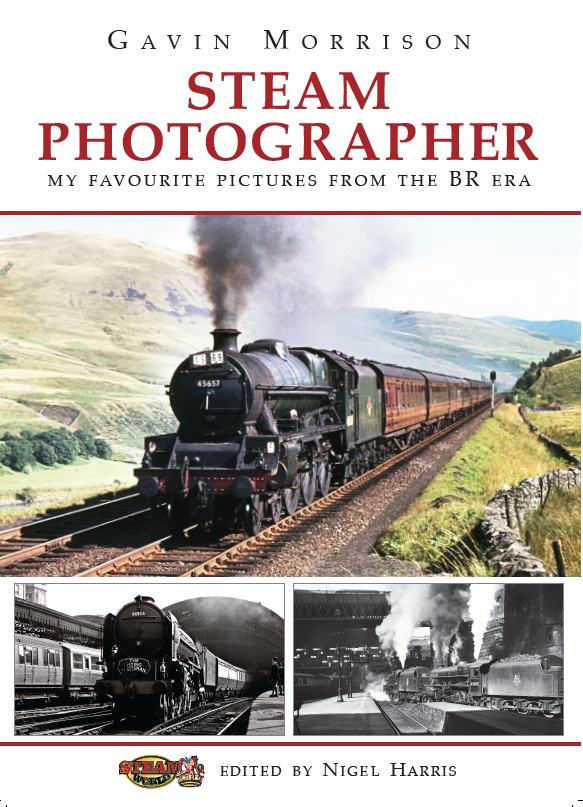 Gavin Morrison is one of the great photographers of the British Rail steam era, earning that recognition for the quality and depth of his work over more than 70 years. In that incredible career he has travelled the length and breadth of Britain and has photographed locomotives both legendary and unsung along all of the main lines and beyond and on most of the network's sheds.
From the moment in 1949 when he pedalled his bike armed with a new Box Brownie, Gavin has been obsessed with his art. He is still taking brilliant pictures today although not by bicycle these days.
During that golden age of BR Steam Gavin also travelled by motorbike, his Dad's new Hillman Minx just once, by coach, bus, train and footplate to amass a quarter of a million photographs on black and white negatives and colour slides.
Now he has picked his favourites, many of which have never been published before, from those traditionally captured shots distilling more than 400 from 250,000 for a new book – Gavin Morrison: Steam Photographer My Favourite Pictures from the BR Era – edited by Steam World's Nigel Harris, the doyen of railway journalists.
The pictures alone make this a book an essential addition to any railway library, but Gavin also tells the story behind each one and what happened to the locomotive and locations in the shot. He recounts some wonderful anecdotes of a lifetime obsessed by trains including why he was banned from the Hillman Minx!
The book's quality matches the excellence of the photography and stories. Its 200 pages are printed on heavy gloss art paper with high quality, gold blocked, hard covers.
It is a must for every enthusiast who loves steam and railways and, of course, modellers looking for reference photographs. It will make a wonderful and treasured present.
Priced at £35 (including UK post and packing) it will be sent by next day courier or £50 including post and packing to Europe and Rest of the World. Alternatively buy both Steam Photographer – My Favourite Pictures from the BR Era by Gavin Morrison and Her Majesty's Railway Inspectorate from 1840 together for £60 (UK delivery) or £95 to Europe and the Rest of the World.
Ordering your copy is simple, just click the 'Buy Now' button relevant to your residency. You can pay by credit card or PayPal.
UK RESIDENTS – Steam Photographer – My Favourite Pictures from the BR Era by Gavin Morrison only
OVERSEAS RESIDENTS – Steam Photographer – My Favourite Pictures from the BR Era by Gavin Morrison only
UK RESIDENTS – Steam World book bundle £60
OVERSEAS RESIDENTS – Steam World book bundle £95