All Aboard the Steam Special
Norman Wright and photographer Clive Nicholls take a dream rail journey on a cloud of steam
Amid clouds of steam and smoke and the hiss of the exhaust, the carriages gently shuddered as the engine gained momentum and took the train away from the platform.
This was no routine trip on one of Britain's preserved railway lines but London's Victoria Station at the height of morning rush hour, modern trains arriving all around us and commuters flooding in from the Southern suburbs.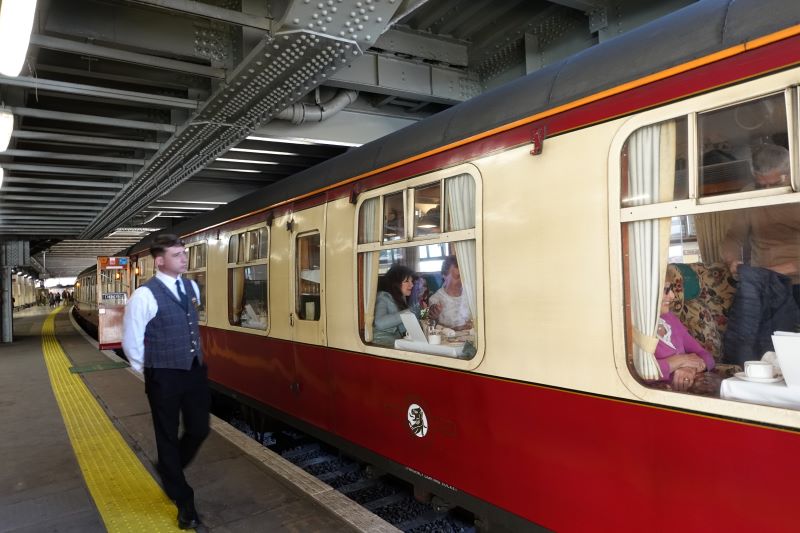 Normally nothing would stop their headlong rush to the offices and workplaces of the capital. Braunton 34046 in full steam did. The West Country Class express was the star of the show as hundreds turned and watched her leave, their phone cameras turned on and their jobs forgotten.
Braunton had everyone transfixed as she steamed through town and country on the five-hour trip to Bath. Steam enthusiasts with their long lenses populated the stations and members of the public were watching from gardens, shopping streets, and bridges pointing those ubiquitous phone cameras. It was the same on the way back. Even trackmen in their full neon orange overalls had their phones out as they stood back to let Braunton pass.
It was an experience that brought a smile to the faces of everyone we passed and to everyone on board the train run by specialists Steam Dreams.
34046 Braunton is a 'Bulleid Light Pacific' express passenger engine designed by chief engineer to the Southern Railway, Oliver Bulleid.
The locomotives were named after towns on or near the Southern Railway system in the west of England, including the town of Braunton situated in North Devon.
In the post war years of skills shortages and declining maintenance standards, British Railways embarked on a rebuilding programme of the Light Pacifics in an attempt to improve reliability. In 1959 the air-smoothed casing and the internal chain drive were removed. By 1965 after accumulating 779,210 miles in service, Braunton was retired and sold to Barry Scrapyard in South Wales. By 1988 the locomotive had been moved from Barry but serious restoration did not begin until 1996 and was completed by 2008. Over the winter of 2011 the locomotive was fitted with all the modern equipment to allow it to be used on the mainline railway network. Although restricted to 75mph, Braunton is capable of speeds in excess of 100mph.
Some years ago, photographer Clive Nicholls and myself travelled on the legendary City of New Orleans overnight train from Chicago to the Louisiana coast. It was made famous in song by Arlo Guthrie and later by Willie Nelson. The verses extolled the country the train was passing and created a romantic and exciting image of train travel as it bisected the vast American landscapes.
This trip was, of course, on a much smaller scale, but it was much better. There was more to see: of life in Britain and our own wonderful landscapes. It was more exciting thanks to the romance and heritage of the mighty steam locomotive up front.
The food and drink were also a million times better. Well, we were travelling in Pullman Dining. So, as we sipped peach Bellini cocktails the train traversed the maze of rails and signals of Clapham Junction. More than 2,000 trains a day pass through the junction, half of them stopping. None cut a more impressive passage than Braunton. Clapham Junction is in fact not in Clapham but in Battersea and we had already had a prime view of the renovated Battersea Power Station as we crossed the Thames over the Grosvenor Bridge.
It was a tour of back door south west London as we navigated away from the famous central landmarks and iconic high-rise buildings. This was the world of Arthur Daley with car lots, railway arch small industries, washing flapping in yards and gardens backing on to the line.
Skirting the river, we passed the metal arches that mark the southern end of Wandsworth Bridge, dubbed "Little Wembley" by locals.
Slipping across the Thames again at Barnes we were then steaming through Kew Bridge and Brentford stations into more suburban territory but still with an audience of onlookers along the route.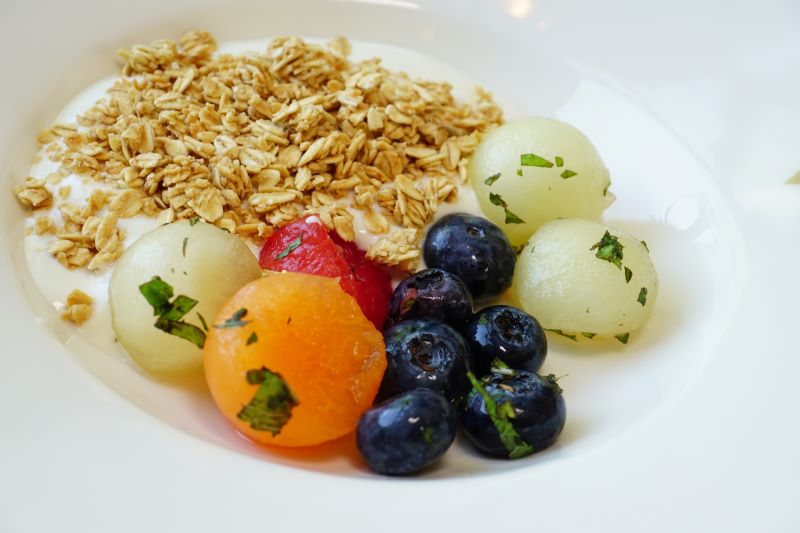 By now the immaculate team of stewards were bringing us the first course of breakfast – tricolour melon and fresh blueberry salad in a minted syrup with fresh natural yoghurt and a final flourish from the servers of seeded granola. It was a distraction from the London life we were interrupting as we steamed through Hounslow skirting Heathrow Airport and past the grim walls of Feltham Young Offenders Institution – a less stark name, but it still looked like a prison or Borstal.
Staines was next and the birthplace of parliamentary democracy at Runnymede close by. But first we passed the Ashford Table Tennis Centre and that's not something we would have found on our American rail trip! In fact, it is purpose-built for the sport and one of the best facilities in England.
Meanwhile our full English breakfast had arrived. We could have chosen smoked salmon and poached egg with sourdough toast, as one of our neighbours across the aisle did. That looked pretty appetising, too.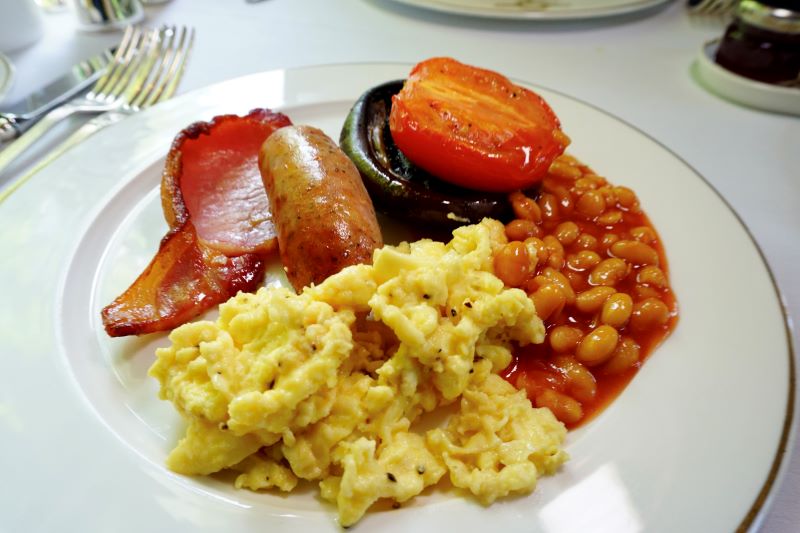 There was another crossing of the Thames at Staines and then we were in Virginia Water weaving between Windsor Great Park and Thorpe Park theme resort.
Branching off here through Chertsey and then Addlestone and Weybridge we passed Brooklands the fabled motor racing oval and wartime aircraft factory, now a museum. Our steam locomotive harked back to the days when Brooklands produced Hurricane fighters, Wellington bombers and daredevil racers in leather "Biggles" helmets and goggles.
This is also golf country and at West Hill Golf Club near Woking members were distracted from their approach shots by Braunton barrelling along smoke streaming behind her.
Among the trees were thousands of gravestones stretching into the distance. This was Brookwood cemetery created in 1854 to relieve London's full burial grounds. It remains the biggest public cemetery in Europe.
The railway was crucial to Brookwood's success. Funerals, with mourners accompanying the coffin, began at a special station, the London Necropolis Station, next to Waterloo station, and branched off the main line near that golf course into two stations – North for non-conformist and South for Anglican funerals.
Although the burial ground was open to all religions and all classes the railway company offered first, second and third class final journeys with even the coffin requiring a ticket.
By now we were in the heart of British Army country around Aldershot, passing Pirbright the Guards depot and the notorious Deepcut barracks.
Another unexpected sight near Fleet was a cyclocross course with dirt track climbs, dips and bumps in the tracks.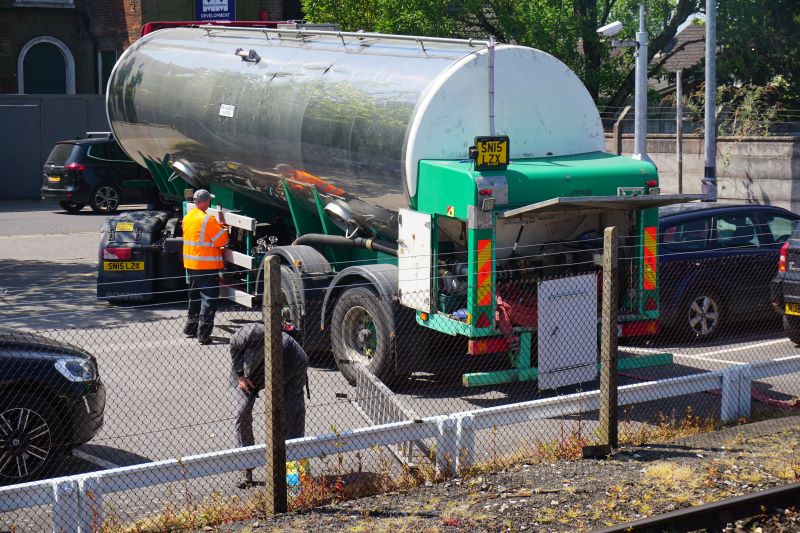 At the little stop of Winchfield just before Basingstoke we halted to take on water, the other essential ingredient of steam travel besides coal. When steam was king of the rails, water tanks bordered the tracks at most stations. Now a water tanker lorry had to reverse as close to the line as possible and pump water through a pipeline to the loco.
This was a quick fix as we headed towards Andover and into Salisbury where another tanker waited for a longer fill-up.
The journey over the downs is through chalk stream country with some of the finest fly fishing for wild trout in the world. We also pass the very secret weapons research establishments of Porton Down and Boscombe Down but they are well hidden from the big windows of our Pullman carriage. Late morning pastries with coffee or tea were served to make sure the passengers were also fully fed and watered.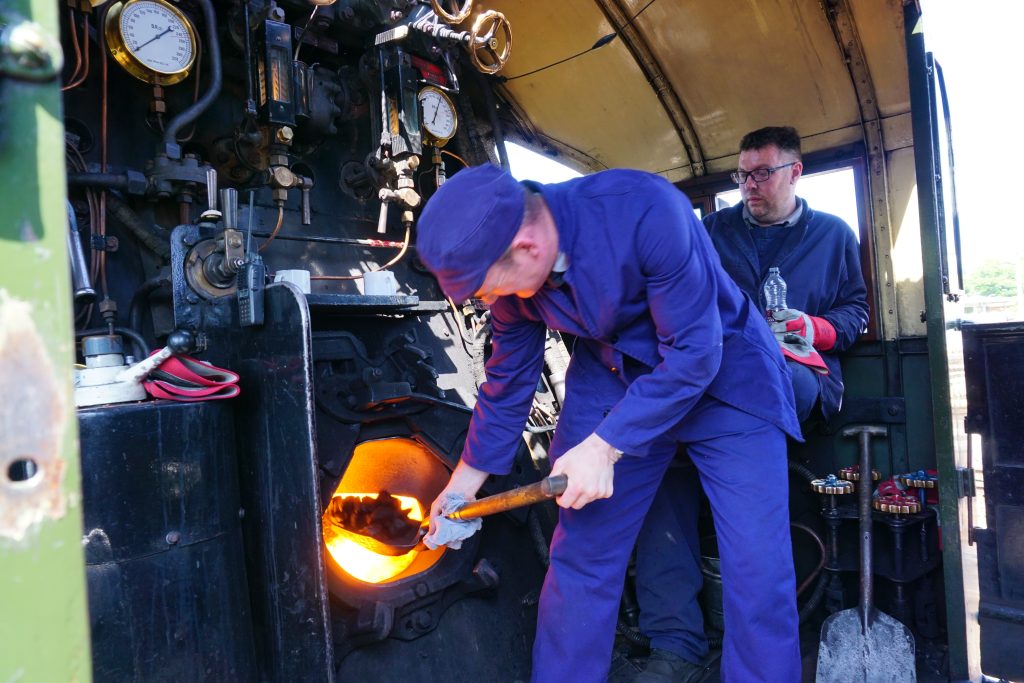 With a full tank of water the train then headed west. We passed a racing stable just before Warminster then an army depot with lines and lines of military vehicles. If President Zelensky had been on board he would have pulled the communication cord and gone shopping.
Then there was the magnificent sight of the Westbury White Horse high on the grassy hill above our route. It was originally carved into the chalk but to preserve it the shape has been covered in white painted concrete.
We were close to our journey's end now as we pulled through the beautiful stone town of Bradford-on-Avon and on into Bath Spa Station.
On the way we had seen so much as well as plenty of animal life including a patrolling fox, wild deer and a hillside of pigs destined for that famous Wiltshire bacon.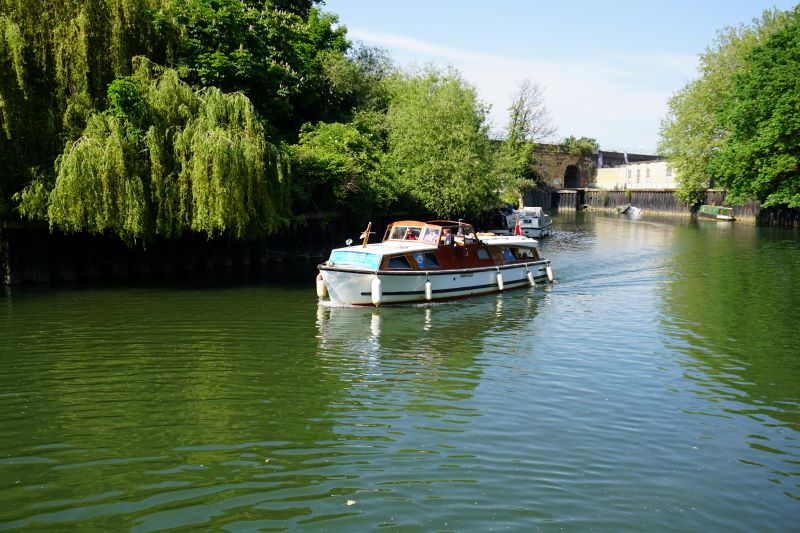 There was the best part of four hours to spend in beautiful Bath before the train steamed in again to pick us up. Then it was a chance to see the sights we had missed before, as well as many we had but now enhanced by the evening angle of the sun.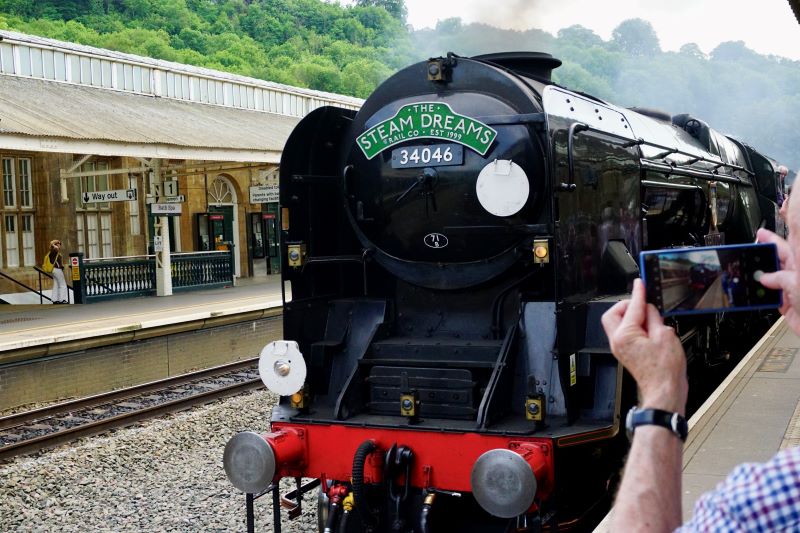 Having said that, much of our return journey was spent enjoying dinner. And what a dinner. You can see from the picture of the menu what a feast it was. It was as good as it looks on the page.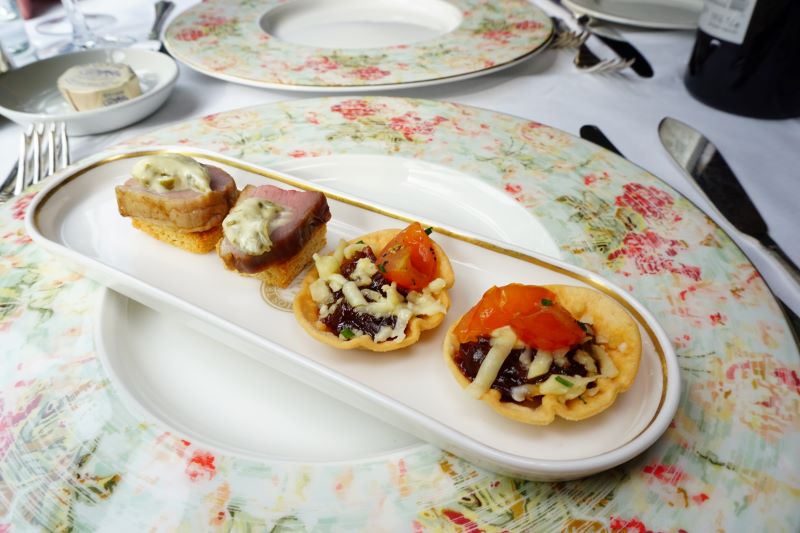 We were returning at a busy time for the railways but pulled into Victoria within a minute of the scheduled time, an amazing performance.
All the way the spectators were still there attracted by the aura of nostalgia and romance that comes with steam. What a day!
All about Steam Dreams and their 2023 schedule
Steam Dreams' first tour left London for Salisbury in December 1999
22 years later, the company is offering day trips to multiple destinations, picking up passengers at regional stations across the UK every year
The Steam Dreams Rail Co. is now delighted to offer a number of multi-day tours around the British Isles. Including a three-night trip to the Edinburgh Christmas Markets in November.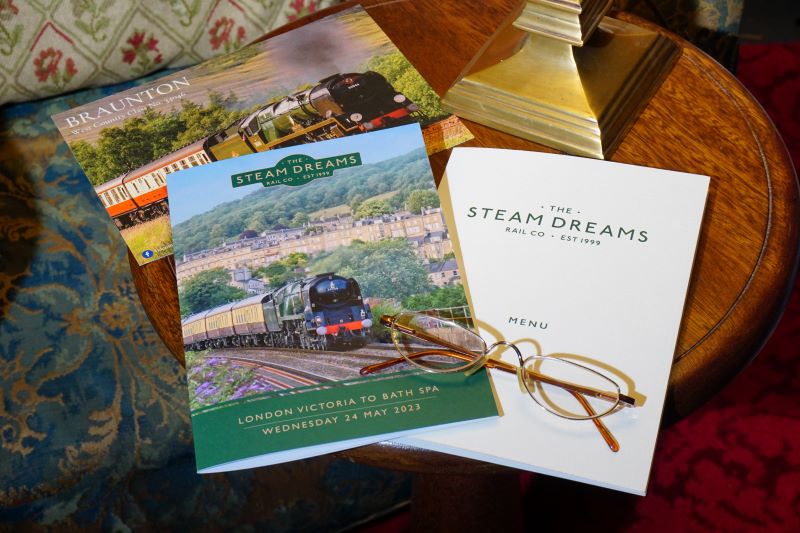 The Steam Dreams Rail Co day trips across the UK for 2023 includes 14 different day trips running until Wednesday, September 27, with eight of these trips running on weekends. The timetable includes a variety of steam hauled departures, all in vintage carriages, to some of the UK's most beloved towns and cities; Cardiff, Carlisle, York, Weymouth, Chesterfield, Oxford, Portsmouth and Winchester to name a few.
The day trips hauled by historic locomotives will depart from four London stations (London Victoria, London Euston, London Waterloo and London Paddington) as well as from Colchester and Shoeburyness stations in Essex. Classic steam locomotives which will be hauling these trips from the Steam Dreams collection include Sir Nigel Gresley, Mayflower 61306, 70000 Britannia, 45231 Sherwood Forester, 46100 Royal Scot and Braunton with some additional guest appearances still to be confirmed.
Steam Dream also run their Sunset Steam Express summer schedule. Each trip departs for a tour of the Surrey Hills, designated as an Area of Outstanding Natural Beauty.
Departing on Tuesdays through August 29, the Sunset Steam Express will leave London's Victoria Station at 18:15 for a three-and-a-half-hour circular trip, returning at 21.45.
Welcomed on-board beautifully restored wood-panelled carriages, guests will be steam hauled by the iconic Mayflower 61306 or 70000 Britannia. This picturesque route heads out of London, passing Guildford before traversing the Surrey Hills before descending the Vale of Holmesdale, and making its way back to Victoria via the market towns of Dorking and Reigate.
Juliet Soley from Steam Dreams commented: 'We are very excited to be running our Sunset Steam Express trains for a third season. These timeless trips are very popular and offer a lovely alternative to a more traditional night out.'
Soley added: 'Passengers love the nostalgic experience that travelling by steam train offers and coupled with its luxurious and comfortable surroundings, delicious food for those choosing the dining option and stunning scenery, these tours offer the perfect, magical evening out.'
Visitors on Steam Dreams trips can choose from three classes of travel: Pullman Style Dining, First Class and Premium Standard.
In Pullman Style Dining, elegant wood-panelled carriages from the 1950s and 1960s have been flawlessly restored and updated with modern features alongside a distinctive cream livery. The highest level of service and comfort creates an unforgettable experience reminiscent of a bygone era, enhanced by original windows and armchair style seating at tables of four or two, laid with crisp linen and embellished with fine crockery, fresh flowers, and glassware.
Those indulging in Pullman Style Dining will be tantalised by the aromas and heavenly flavours from the new elevated dining experience which presents a bespoke, seasonal three course meal meticulously designed by Executive Chef, Nicholas Allen. The menu abounds with local meat, fish and vegetables from regional and responsibly sourced suppliers linked to the specific journey routing. A glass of Champagne and canapes on arrival are also included, as well as a selection of carefully chosen wines.
In First Class, guests are welcomed onboard a 1950s carriage with a glass of Bucks Fizz, followed by sweet and savoury treats to be enjoyed while taking in spectacular views of the passing countryside, from cushioned armchair style seats.
Those in Premium Standard will be seated in 1960s style carriages with large picture windows, boasting perfect views. Seating is configured in tables of four and complimentary tea and coffee will be available, with a choice of refreshments at hand to purchase from the buffet bar. Guests travelling are welcome to bring their own picnics on-board.
For further information and to book call 01483 209888 or visit www.steamdreams.co.uk